DDifferent sort of companies ask us for nuts with special requirements, in shape, in height, thread depth, diameter, with or without wings, seal…
Most common nuts:
- Flat outer pans (hexagonal, octagonal, etc)
- Wing nuts (hose fitting type)
- With serration (washing machine nut)
- Flanged head (sliding)
- Blind (female caps)
- With seal (meter)
- Compression nut (SAE)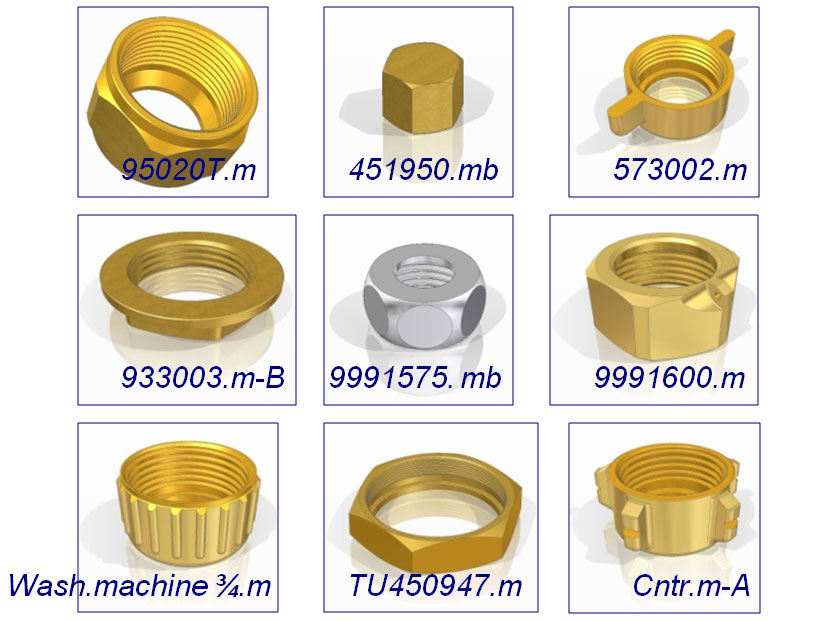 Se trata de accesorios con tamaños y pesos muy variados, que pueden ir desde los 4 gramos a más de 1Kg, de menos de 10mm a más de 100mm.
En cuanto al material de fabricación, los materiales más habituales son: CW617N para piezas estampadas en caliente, CW614N para decoletaje y CB753S si se realizan de fundición.
A destacar que se pueden fabricar con la marca del cliente, y se ofrecen tratamientos como el pulido, el niquelado o el cromado.