rmmcia at the XXIX Conaif congress, Las Palmas de Gran Canaria, 18th and 19th October 2018 (Conaif is the Confederación Nacional de Asociaciones de Instaladores y Fluidos).
Rafael Márquez Moro y Cía, rmmcia, will be "classic" sponsor and will participate at the XXIX Conaif congress, which will take place the 18th and 19th October.
For celebrating this yearly event, Conaif has chosen Gran Canaria, an island of extraordinary beauty and delicious cuisine. It will put together experts in plumbing, gas and climate (heat and cold), as well as general business, and will offer very interesting talks where will be given priority to thematic such as leadership, team work, change management or motivation.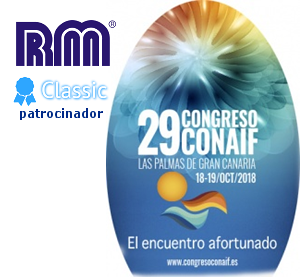 We wish this event the greatest success and participation.